Product Summary
The MP1593DN is a step-down regulator with an internal Power MOSFET. The MP1593DN achieves 3A of continuous output current over a wide input supply range with excellent load and line regulation. Current mode operation provides fast transient response and eases loop stabilization. Fault condition protection includes cycle-by-cycle current limiting and thermal shutdown. An adjustable soft-start reduces the stress on the input source at startup. In shutdown mode the regulator draws 20μA of supply current. The MP1593DN requires a minimum number of readily available external components, providing a compact solution. The applications of the MP1593DN are: Distributed Power Systems, Battery Chargers, Pre-Regulator for Linear Regulators, Flat Panel TVs, Set-Top Boxes, Cigarette Lighter Powered Devices, DVD/PVR Devices.
Parametrics
MP1593DN absolute maximum ratings: (1)Supply Voltage VIN: -0.3V to +30V; (2)Switch Voltage VSW: -0.5V to VIN + 0.3V; (3)Boost Voltage VBS: VSW - 0.3V to VSW + 6V; (4)All Other Pins: -0.3V to +6V; (5)Junction Temperature: 150℃; (6)Lead Temperature: 260℃; (7)Storage Temperature: -65℃ to +150℃.
Features
MP1593DN features: (1)3A Output Current; (2)Programmable Soft-Start; (3)100mΩ Internal Power MOSFET Switch; (4)Stable with Low ESR Output Ceramic Capacitors; (5)Up to 95% Efficiency; (6)20μA Shutdown Mode; (7)Fixed 385KHz Frequency; (8)Thermal Shutdown; (9)Cycle-by-Cycle Over Current Protection; (10)Wide 4.75V to 28V Operating Input Range; (11)Output Adjustable from 1.22V; (12)Under-Voltage Lockout; (13)Available in 8-Pin SOIC Package.
Diagrams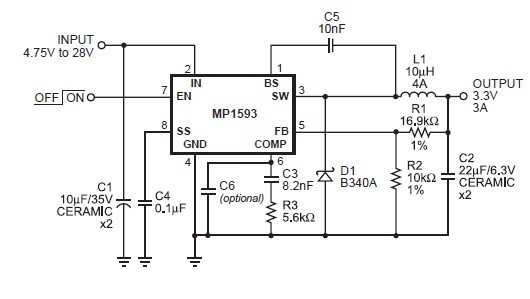 Image
Part No
Mfg
Description
Pricing
(USD)
Quantity

MP1593DN-LF

Monolithic Power Systems (MPS)

Switching Converters, Regulators & Controllers 3A 28V 385kHz Step-Down Converter

Data Sheet



| | |
| --- | --- |
| 0-1: | $1.61 |
| 1-25: | $1.50 |
| 25-100: | $1.39 |
| 100-500: | $1.27 |


MP1593DN-LF-Z

Monolithic Power Systems (MPS)

Switching Converters, Regulators & Controllers 3A 28V 385kHz Step-Down Converter

Data Sheet



| | |
| --- | --- |
| 0-1750: | $1.15 |
| 1750-2000: | $1.10 |
| 2000-2500: | $1.10 |
| 2500-5000: | $1.07 |