Product Summary
The L9954XP is a microcontroller driver, multifunctional door actuator driver for automotive applications. Up to two DC motors and three grounded resistive loads can be driven with three half bridges and three highside drivers. The integrated standard serial peripheral interface (SPI) of L9954XP controls all operation modes (forward, reverse, brake and high impedance). All diagnostic information is available via the SPI.
Parametrics
L9954XP absolute maximum ratings: (1)DC supply voltage, VS: -0.3 to 28V; (2)Single pulse tmax < 400ms, VS: 40V; (3)Stabilized supply voltage, logic supply, VCC: -0.3 to 5.5V; (4)Digital input / output voltage: -0.3 to VCC+0.3V; (5)Current monitor output, VCM: -0.3 to VCC+0.3V; (6)Charge pump output, VCP: -25 to VS+11V; (7)Output current, IOUT1,2,3,4,5: ±5A; (8)Output current, IOUT6: ±10A.
Features
L9954XP features: (1)Three half bridges for 1.5A load (Ron=800mΩ); (2)One highside driver for 6A load (Ron=100mΩ); (3)Two highside drivers for 1.5A load (Ron=800mΩ); (4)Programmable softstart function to drive loads with higher inrush currents (i.e. current >6A, >1.5A); (5)Very low current consumption in standby mode (IS < 6μA typ; Tj ≤ 85℃); (6)All outputs short circuit protected; (7)Current monitor output for highside OUT1, OUT4, OUT5 and OUT6; (8)All outputs over temperature protected; (9)Open load diagnostic for all outputs; (10)Overload diagnostic for all outputs; (11)PWM control of all outputs; (12)Charge pump output for reverse polarity protection.
Diagrams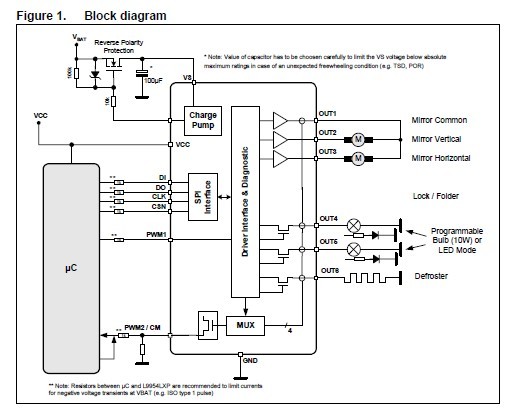 Image
Part No
Mfg
Description
Pricing
(USD)
Quantity

L9954XP

STMicroelectronics

Motor / Motion / Ignition Controllers & Drivers Door actuator DRVR

Data Sheet



| | |
| --- | --- |
| 0-797: | $3.47 |
| 797-1000: | $3.04 |
| 1000-2000: | $2.92 |


L9954XPTR

STMicroelectronics

Motor / Motion / Ignition Controllers & Drivers Door actuator DRVR

Data Sheet



| | |
| --- | --- |
| 0-650: | $3.47 |
| 650-1000: | $3.04 |
| 1000-2000: | $2.92 |